Aaron Finch 156 (63 balls, 11 fours, 14 sixes)
England v Australia | The Rose Bowl, Southampton | August 29, 2013

Compared to the other batting feats in this list which involved calculated risk-taking under extreme pressure on the biggest stages, this one came in the first of a two-game T20I series towards the end of a near four-month long tour, were it not for Finch's firestorm of a knock, the match might have been entirely forgotten… !!

Nevertheless, the innings was an absolute masterclass and characterized by the bruising, brutalist biffing which Finch has made his calling card, backing outside leg and letting his burly frame do the rest.
Finch, in a way, did nothing uniquely extraordinary to reach this uncharted ground, and served to show that in T20 cricket, almost anything is possible...
---
Virat Kohli 82* (51 balls, 9 fours, 2 sixes)
India v Australia | Mohali | 2016 Men's World T20 | March 27, 2016
2016 turned out to be a watershed year for Kohli, who averaged 99.6 in white-ball internationals and slammed a small matter of four IPL hundreds !!
Yet, there wasn't a knock more defining than the one in Mohali.
Single-handedly orchestrating a terrific chase, Kohli's T20I magnum opus came in India's semi-final-berth sealing win. It wasn't an innings of power hitting, but one penned with a finer nib, borrowing the chase-mastering facets of MS Dhoni, his unbeaten partner at the finishing line. Kohli hit just two sixes in all, and one barely made it over the ropes. It was all in the running, all in that gap-piercing mastery…
Kohli was working with the angles, and pressing hard for doubles. They looted four twos in the 16th over.. and later crunched three consecutive boundaries off Faulkner. A customary Dhoni six wrapped up the chase, but it had already been killed, stroke by stroke, by Kohli at the other end. The baton silently switched hands that night…
---
Mike Hussey 60* (24 balls, 3 fours, 6 sixes)
Pakistan v Australia | St Lucia | 2010 ICC World T20 SF | May 14, 2010
At 105-5, with his brother walking back for 13, Mike Hussey makes his way to the crease; Australia pray for divine intervention. They need 87 runs from 45 balls, and a place in the World T20 final beckons for Pakistan, the reigning champions.
It all boiled down to 18 off 6. For a man of his skill and experience, this seemed out of reach. Even 10 years later, this target is certainly on the extreme ends.
But what followed was godlike, freakish…
The eyes watched and the hands swung away. Six. Six. Four. He doesn't pummel the leg side, he obliterates it. The bear hug with Mitchell Johnson was emotional. The roar was a concoction of shock and ecstasy. The heist was one for the ages.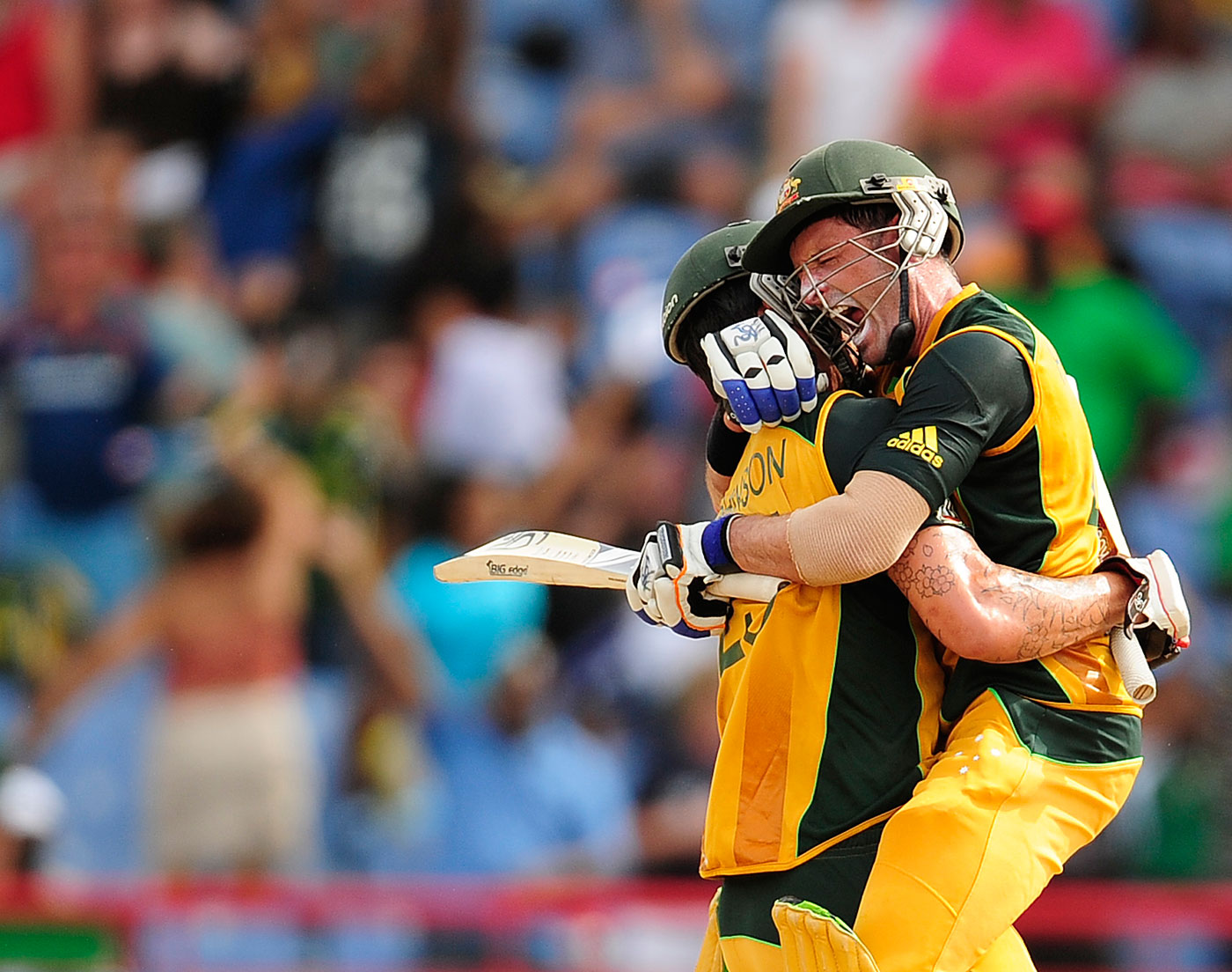 ---
Carlos Brathwaite 34 runs (10 balls, 1 four, 4 sixes)
England v West Indies | Kolkata | World T20 Final | April 3, 2016

"Carlos Brathwaite! Carlos Brathwaite! Remember the name !!"

Going into the 2016 World T20 Final, Carlos Brathwaite was a 27-year-old all-rounder who in 14 international white-ball games spread over the course of a five-year period, had neither passed 20 nor taken more than two wickets in an innings. In that final, he took 3-23 from his four overs and blasted 34 off 10 balls (including 24 off his final four balls) to sensationally bring home the title for the West Indies.
It would be fair to argue that an innings that was just 10 balls in length to be considered one of the best in past decade, but in T20I cricket over the last 10 years, no innings has been so clinically brutal when it mattered most…
As much as you can point to Stokes' relative poor execution in that final over and his reluctance to vary his length, few batsmen ever punish a bowler so emphatically, let alone in the last over of a World Cup final.
---
Marlon Samuels 78 (56 balls, 3 fours, 6 sixes)
Sri Lanka v West Indies | Colombo | World T20 Final | October 7, 2012

With averages hovering around 30 and strike-rates at the low end of acceptable, you'd imagine Marlon Samuels to be an honest trier, who made the most of his ability, not the would-be world-beater who could do it all when the mood took him. But the tragedy and the beauty of his career was that only the most trying of circumstances saw him summon his very best...
Never in a World Cup final has one batsman stood so far ahead of all the other batsmen on show; none of Chris Gayle, Kumar Sangakkara, Mahela Jayawardene, Angelo Mathews, Tillakaratne Dilshan or Andre Russell could get to grips with a surface among the tackiest and trickiest produced for a global showpiece. After the 10th over, they were 32-2 and Samuels was 20 off 32. Then he flicked the switch…
Samuels went all in, carving Malinga and Mendis on a pitch where no one else timed a ball all evening. 51 runs come off his last 17 balls…