Portugal 3 – 3 Spain
Pre-match drama, an early penalty, two world class bangers, a howler, a late goal and of course, top-class football… This match had it all. Everyone pretty much expected a cagey, conservative affair given their first match. But how brilliantly they surprised us !!
With all the background stuff that seemed to have eclipsed the build up to this eagerly awaited clash, the game fought back. Football managed to find a way… Here Spain found a way and Ronaldo certainly did.
Perhaps it was simple : perhaps recovery was always most likely to come with the opportunity to get back to what they know… playing football very, very well. They might have lost their manager two days before the World Cup but Spain are still Spain.
And Ronaldo is Ronaldo. With one minute to go, Cristiano Ronaldo curled in a wonderful free-kick to complete a hat-trick and give a superb night an unexpected ending.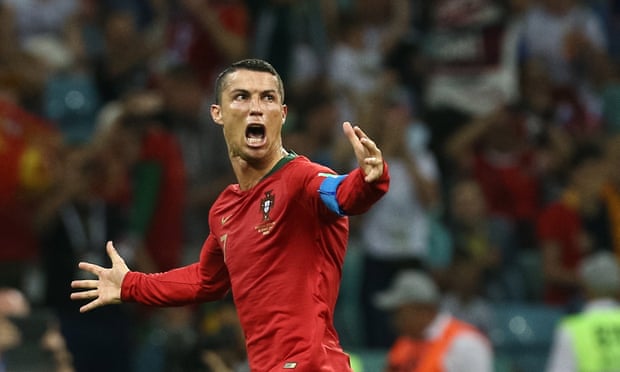 ---
Germany 2 – 1 Sweden
Of all the countries, of all the situations to find themselves in : 30 seconds from leaving the World Cup just 10 days in, only 10 men on the pitch. Then Toni Kroos, a cunning free-kick and a ball curled inside the far post. This time, it really didn't look like it was coming, but then it did.
The angle to the left of the penalty area looked to be too tight for Toni Kroos as he stood over a free-kick. But he made it slightly better by touching the ball to Marco Reus, who gave it back and what happened next was a contender for goal of the tournament.
The more you think about it, the more Kroos's moment seems uncanny, not just improbable but impossible…
Although, in the grand scheme of things, this match was merely a momentarily delight as Germany still crashed out of the World Cup in group stages. But, it was one of the moments of the group stage when Germany hung in there by merely a few seconds…
---
Argentina 0 – 3 Croatia
While all the headlines after Argentina-Croatia game were about Messi and the team crumbling unexpectedly, everyone realized a few weeks later that the Croatian side deserved more credit than that. Croatia looked threatening every time they attacked and ran riot late on. Modric's goal was a beauty and Rakitic, who hit the bar with a free-kick, slotted in the third to put Zlatko Dalic and his players in dreamland.
Croatia executed their gameplan perfectly against Argentina, controlling the midfield, exposing the space that opened up on the flanks behind Sampaoli's wing-backs and restricting the influence of Messi, who was a peripheral figure throughout. "Of course we respect Messi because he's the greatest player in the world, but he's also stoppable" , as Lovren said.
They were excellent. But more than that, they remained dignified and humble. And kept their thought about the bigger picture… and almost made it to the final summit, because they had the potential to do so !!
And despite all the praise, it still feels how underrated is Luka Modric !! People often mention Xavi, Iniesta, Zidane when discussing the greatest midfielders of this era… and Modric belongs in this category.
---
France 4 – 3 Argentina
Dreams can endure only so long before they are overwhelmed by reality – and there are few realities quite so brutally uncompromising as the pace and finishing of Kylian Mbappé, who scored twice and won a penalty in France's 4-3 win.
After a grim trudge through the group stage, France, finally, were off and running and looking like eventual champions.
Mbappé's pace terrified Argentina, provoking the 13th-minute penalty from which Antoine Griezmann opened the scoring. There was something of the Brazilian Ronaldo about his surge, a comparison acknowledged by Deschamps. "Ronaldo was very, very quick," he said. "But I think Kylian is even quicker."
And finally, the game which gave us two of the absolute peach goals of the tournament from Di Maria and Pavard !!
---
Belgium 3 – 2 Japan
Game of the tournament for me !! No nonsense football, no diving, no rough tackles… just pure unadulterated football… 
It will go down as a World Cup classic, a wild and chaotic game that will be talked about in years to come, in particular those dramatic final seconds when Belgium went from one end of the pitch to the other in the blink of an eye to score the goal that completed a remarkable comeback and broke Japan's hearts.
What a moment. What a turnaround. The script had been written for another World Cup shock when Japan raced into a 2-0 goal lead early in the second half. Genki Haraguchi scored with a lovely arrowed finish and, four minutes later, Japan were in dreamland when the gifted Takashi Inui scored a splendid second. Martínez looked to the heavens at that point.
Elite football has always been epitomized by the larger than life figures from the west – from the Premier League to the Champions League. To see those untouchable players getting pummeled by the Japanese side for a majority of the game.. It was surreal.
And there's no team as decent as Japan. After the match, they went back to their changing room, showered and changed, tided up, removed the rubbish and left a note for ground staff reading "thank you" in Russian. The fans did the same to their stand.
---
Russia 2 – 2 Croatia (5-6 on penalties)
The mighty Croats met the hosts in an absorbing, high-intensity quarterfinal match in Moscow which had all the qualities of an edge-of-the-seat thriller. Russia were very defensive in their second-round victory over Spain and one expected a repeat of the ultra-defensive strategy against Croatia too.
To everyone's surprise, Russia were much livelier in attack against Croatia. They took the lead through Denis Cherysev's 25-yard scorcher in the first half.
The second half was even more intense as the teams exchanged blows but the elusive goal did not come. In the extra-time, Domagoj Vida put Croatia ahead with a stunning header from a corner. Croatia seemed to be cruising towards a hard-earned win but Mario Fernandes had other ideas.
Russia won a free-kick just outside the Croatian penalty box and Fernandes nodded home the equalizer in the 113th minute to take the match into the penalties. Russia lost in the shootout but the spectators were treated with wonderful entertainment.
---
Belgium 2 – 1 Brazil
Brazil had chances. A few ricochets in the box did not fall their way. The hysteria that always surrounds them, the sense of desire and expectation, perhaps becomes at times inhibitive. Tite, almost certainly, will be blamed, because that is what coaches are for, but his half-time switch to a 4-4-2, bringing on Roberto Firmino in place of Willian and shifting Gabriel Jesus to the right, did stem the Belgian tide. The problem was that by then they were already 2-0 down, having been eviscerated on the break by Kevin De Bruyne. Renato Augusto did pull one back, heading in Philippe Coutinho's chip with 14 minutes remaining, but Belgium clung on.
As Tite put it, "It was a great game with two teams of incredible technical qualities. Even with all the pain I feel now and the bitterness, I say that if you like football, you have to watch this game and you will have pleasure if you are not emotionally involved. Triangulations, transitions, saves, what a beautiful game!"