Read highlights of Round 1 here…
It's a gift that keeps on giving. More bangers, last minute goals and last minute bangers !! To the extent that you keep applying the law of averages in the back of your mind and fear that the knockout stage would be anticlimatic. Hope this fun ride doesn't stop soon.. 
Here's a look at some of the highlights of Round 2
---
France yet to hit their stride
Making the most of an insanely ample pool of talent has long been Deschamps' central task. Outsiders may look at France's obscene levels of talent and see a group of World Cup winners, but it still feels that they are yet to reach their desired potential as a team in recent years.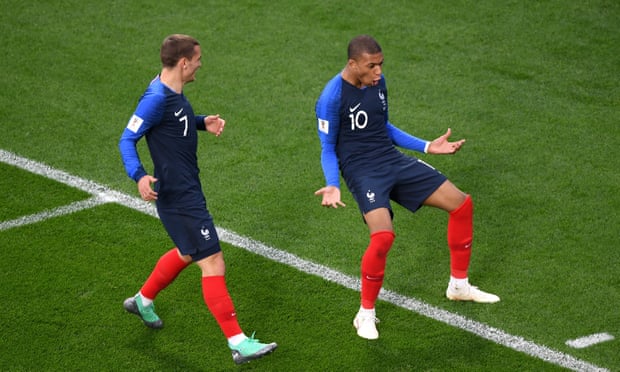 Deschamps had already switched between 4-4-2 and 4-3-3 in qualifying and his tinkering across France's three warm-up friendlies smacked of indecisiveness. The narrow 1-0 win over Peru was largely achieved by returning to the comfort blanket of 4-4-2, the only set-up that has produced consistent results, if not fluid performances, in recent times. The midfield diamond of the warm-up games was dispensed with as Dembélé and Tolisso made way for Deschamps favourites Giroud and Blaise Matuidi. As L'Équipe reporter Hugo Guillemet comments on France, "We sit back and send aerial balls to a big man up top, six years of Deschamps only to install a tactical system akin to Sunderland."
There were still some positives from the Peru game. France began slowly but felt their way into the match thanks to their superior individual quality. Samuel Umtiti and Raphael Varane proved solid at centre-back and the ubiquitous N'Golo Kanté continued to impress alongside an unusually prominent Paul Pogba.
Given their early qualification, they would take the opportunity of Game 3 to gain some much-needed flow to their game ahead of the knockout stages.
---
Croatian Midfield Masterclass
While all the headlines after Argentina-Croatia game were about Messi and the team crumbling unexpectedly, let's also give credit where due. Croatia looked threatening every time they attacked and ran riot late on. Modric's goal was a beauty and Rakitic, who hit the bar with a free-kick, slotted in the third to put Zlatko Dalic and his players in dreamland. They were excellent. But now they must be calm, dignified and humble. And think about the larger picture… because they have the potential to do so !!
Croatia executed their gameplan perfectly against Argentina, controlling the midfield, exposing the space that opened up on the flanks behind Sampaoli's wing-backs and restricting the influence of Messi, who was a peripheral figure throughout. "Of course we respect Messi because he's the greatest player in the world, but he's also stoppable" , as Lovren said.
And despite all the praise, it still feels how underrated is Luka Modric !! People often mention Xavi, Iniesta, Zidane when discussing the greatest midfielders of this era… and Modric belongs in this category.
---
Football and Politics
There was more gloating when Switzerland recorded their 2-1 victory over Serbia but this time there was rather more to it. A bit of background. Xherdan Shaqiri and Granit Xhaka are ethnic Albanians with their roots in Kosovo, where a Serbian crackdown on the Albanian population only ended with Nato military intervention in 1999. Shaqiri was born in Kosovo but his family were forced to flee to Switzerland when he was a baby due to conflict while Xhaka was born in Switzerland – his parents having also fled there from Kosovo.
When Shaqiri and Xhaka scored the goals against Serbia, they made the sign of the Albanian double-headed eagle. FIFA may discipline them for provoking the general public, but after what their families lived through… they would surely do it again.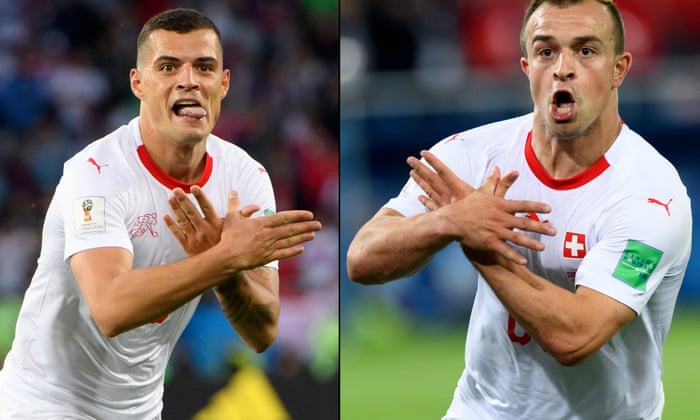 ---
There's nothing like the Passion of World Cup
What we have seen in the past week and a half – from Neymar's emotion to Germany's wild celebrations against Sweden, the pile-ons whenever England score and the atmosphere of intense hostility when Switzerland faced Serbia – is that international football still stirs passions like no other form of the sport. It is easy to get sniffy about some of the quality on show but that is to miss the point that World Cups have always appealed more to the visceral than the cerebral.
To see the likes of Egypt and Peru crumbling out of group stage was largely well-known, but the joy of their fans, their emotions at singing their national anthems and waving their flags, the fervour with which they supported teams as they went out fighting, meant something in itself.
Just hearing Panama's anthem before their first game at the World Cup moved these TV presenters…
---
VAR : Glass more than Half-Full
The endless delays while a middle-aged man fiddles with his ear. The jeers in the stadium. The complete absence of any information… It all felt like something that would diminish decisively the primary experience of the stadium-going fan.
But in Russia it has actually worked well. A quick sprint off to check a screen. Decisions made in seconds not minutes. VAR has prevented rather than created controversy, and has stilled the tedious chunter about decisions, so often a last resort for those who would rather not analyse the actual game.
If it does nothing else, World Cup VAR has saved us from the grisly spectacle of Neymar's backward dive against Costa Rica being rewarded with a match-turning penalty. If it makes him stay on his feet just a little more, everyone wins… !!
---
When they're down, they find a way to Win
And that's why they're the champions. More than that, that is why they are Germany. Of all the countries, of all the situations to find themselves in : 30 seconds from leaving the World Cup just 10 days in, only 10 men on the pitch. Then Toni Kroos, a cunning free-kick and a ball curled inside the far post. This time, it really didn't look like it was coming, but then it did.
The more you think about it, the more Kroos's moment seems uncanny, not just improbable but impossible…
If Germany beat South Korea by two goals they will progress to the next stage, maybe even top the group. There are many questions about this team that remain unanswered… the form of Jérôme Boateng, the positions occupied by their full-backs, the wild variations in tempo, the apparent lack of an effective number nine. But all of them seem less significant than the fact that Germany remain Germany and they're still in the World Cup.
---
Group H : The Epitome of World-Cup Spirit
"Yes! We can win this group!" – said simultaneously fans in Warsaw, Bogota, Tokyo and Dakar.. when the World Cup Groups were announced.
Four teams from 4 continents, more-or-less evenly matched on the football pitch, and each with their own rich history and vibrant culture. In short, the perfect advertisement of the global spirit of World Cup
In fact, some of the most wholesome stories of this world… like fans of all 4 teams clean up their trash from the stadium , Japanese and Senegal fans singing the theme song of famous Japanese Anime, One Piece, together after dramatic 2-2 draw, Senegal players dancing as part of their training, have come from this group.