A world cup of bangers, controversy, upsets, late goals, individual brilliance, no goalless draw.. It's still early days, but we can easily say that everyone's thoroughly sports-entertained !!
A look at some of the highlights of Week 1…
---
The Hosts are there to Play
Even Russia's own media and fans were fearing that they'd become only the second host nation ever to exit at the group stage. But thanks to a comprehensive opening day 5-0 victory, Stanislav Cherchesov's men looked primed to stay at their own party (which they confirmed with the follow-up victory over Egypt in Round 2). Russia, looking far from the disorganised mess that many anticipated, did enough to suggest they could cause tougher opposition problems. Aleksandr Golovin was magnificent, while super-sub Denis Cheryshev grabbed two goals off the bench and got another from the start against Egypt.
---
Iceland's Success in no longer a fluke
Iceland may no longer be considered plucky minnows, but their first ever World Cup game against 2014 runners-up Argentina still looked like a tall order. Once again, however, the Nordic nation proved just how effective good organisation can be. The smallest nation ever to qualify for the tournament were compact throughout and shut down Lionel Messi in open play, and from the spot as well…!!
Half of the stadium leapt up, phones raised as Lionel Messi stepped up to take the penalty kick. But, Messi's kick was terrible, too close to Hannes Thór Halldórsson, who guessed the right way and palmed the ball far enough from goal.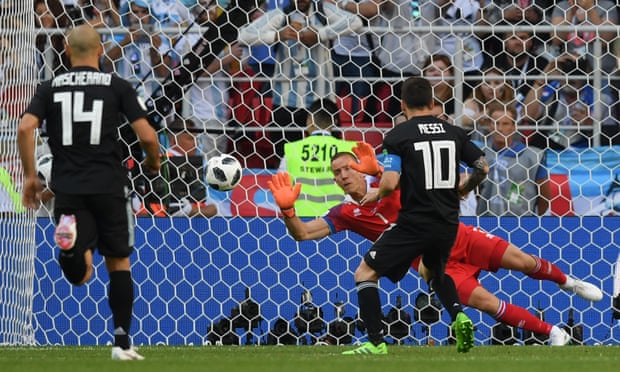 For long periods, Argentina were ponderous in central midfield against opponents who dropped deep. Ángel Di María provided little effective width. On the right Eduardo Salvio made good ground at times. There were chances, shots that whistled just wide, and that missed Messi penalty. But Iceland were cool throughout, their point welcomed with a huge Nordic cheer.
Iceland had just 22% possession, but had a superb defensive display which frustrated the South Americans throughout. Hannes Halldorsson was the goalkeeper of the week for me !!
---
Portugal v/s Spain : The Match for the Ages
Pre-match drama, an early penalty, two world class bangers, a howler, a late goal and of course, top-class football… This match had it all. Everyone pretty much expected a cagey, conservative affair given their first match. But how brilliantly they surprised us !!
With all the background stuff that seemed to have eclipsed the build up to this eagerly awaited clash, the game fought back. Football managed to find a way… Here Spain found a way and Ronaldo certainly did.
Perhaps it was simple : perhaps recovery was always most likely to come with the opportunity to get back to what they know… playing football very, very well. They might have lost their manager two days before the World Cup but Spain are still Spain.
And Ronaldo is Ronaldo. With one minute to go, Cristiano Ronaldo curled in a wonderful free-kick to complete a hat-trick and give a superb night an unexpected ending.
---
The German Complacency – A Glitch in the Matrix or a Genuine Crack ?
Having watched Germany's two friendlies before the World Cup, in which they underperformed, there was a sense of complacency. Equally, however, any person with knowledge of football history expected them to go into the tournament fully focused and in ideal shape. After all, this is what Germany tend to do but that has proven not to be the case this time. Mexico upset the odds to win 1-0 with an immaculate display which left everyone stunned.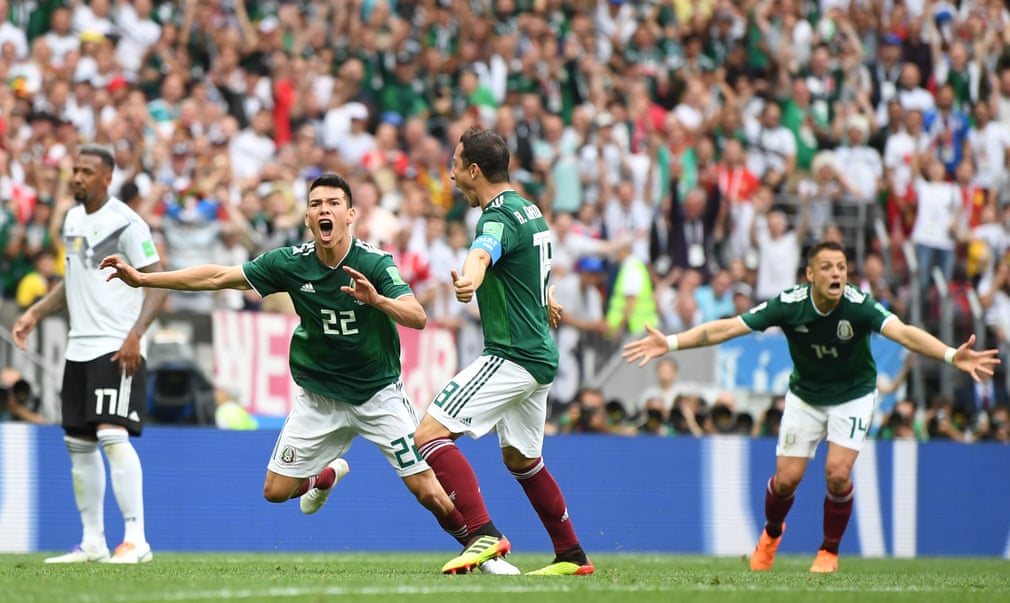 With a quartet of forward-facing players in the starting XI, Germany had begun by leaving huge open spaces at the back of midfield, into which Mexico's three-man attack ran havoc. In the opening 40 minutes, Löw's team had been ambushed, and the world champions run into a state of breathless trauma by a thrillingly vibrant Mexico attack. They lacked a proper midfield bolt, with Toni Kroos and Sami Khedira huffing around in pursuit of the whizzing green machine. The centre-backs looked flustered, left to deal with three on two as Mexico broke.
Löw's 4-2-3-1 seemed antiquated and creaky, with the old World Cup shark Thomas Müller flat-footed in a wide position. Timo Werner looked far away from the planned target man for Germany this time.
This was a champion team out of kilter, stung by what was arguably an act of disrespect to their opponents, a failure to appreciate their threat and the fine planning of Carlos Osorio, and never really able to regain its balance.
Every World Cup brings goals and moments that feel as if they've been seared into the memory. Lazano's goal was another one for the hard drive, as the Luzhniki exploded with deep green joy
---
A Happy and Cohesive England
Whereas the so-called Golden Generation regularly suffered at the first sign of pressure, the newer, less experienced England refused to panic. For the first time, English football team felt like a cohesive unit instead of an all-stars team. An old English routine : the corner, the flick-on, the back-post header and, suddenly, England's opening game of the World Cup had its happy ending… England finally got it's pile-on !!!
It was deserved, too, bearing in mind the pattern of the game and the long spells when it had been threatening to finish with a churning sense of déjà vu. England, after all, had managed only five wins in their opening fixtures of every World Cup and European Championship since 1950.
Southgate certainly kept to his word that his players would deliver fluid, energetic performances with an emphasis on attack. They were quick to the ball, slick with their passing and attacked with so much adventure, particularly in the first half, that there were countless occasions when they outnumbered their opponents at the back.
Forget the VAR howlers on the rugby-like tackles on Harry Kane, the Three Lions should have had the match wrapped up by the half-hour mark, with Raheem Sterling, Jesse Lingard and Dele Alli all fluffing glorious opportunities. But if England can improve their shooting prowess, their rampant opening spell – and apparent lack of the dreaded fear – suggests they could well surpass rather humble expectations.
Of course, it's only Tunisia.. but there are far more positives to take away for England from this one, while also finally getting rid of their age-old usual baggage as well !!